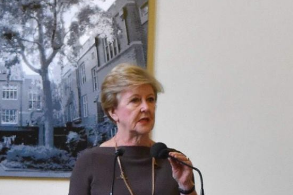 UNHCR Assistant Secretary-General on COVID-19
Listen to College Fellow Prof Gillian Triggs in conversation with alumna Thenu Herath. Link here: https://bit.ly/2VYApKZ
---
Welcome Week
As the world responds to COVID-19, this photo taken in March during our 2020 Welcome Week reminds us that, with hope, we will return to the energy and activity of a normal College year in 2021. Until then, our best wishes are with everyone who is grappling with the impact of the virus beyond the College, including those studying for university entry.
---
Rhodes Scholars via Zoom
Our students will have the chance to chat via zoom with seven Rhodes Scholars who were students and tutors at JCH. JCH Rhodes Scholars Dr Jenny Tran, Ms Bec Duke and Dr Lauren Rickards are seen here at a dinner with JCH Visitor, Nobel Laureate and infectious diseases expert Prof Peter Doherty.
---