Nobel Laureate speaks to students via Zoom
College Visitor and Nobel Prize Winner Peter Doherty (seen here with JCH Rhodes Scholars Jenny Tran, Rebecca Duke and Lauren Rickards) talks about pandemics and the pathway out of COVID-19.
---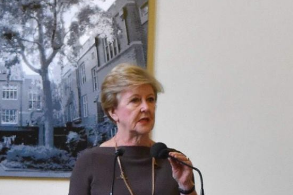 UNHCR Assistant Secretary-General on COVID-19
Listen to College Fellow Prof Gillian Triggs in conversation with alumna Thenu Herath.
---
Welcome Week
Working with the current COVID-19 guidelines, the College celebrated a fantastic orientation 'Welcome Week' as we increasingly return to the energy and activity of a normal College year.
---