Rooms & Facilities
Janet Clarke Hall has a full range of first-class facilities (well maintained and continually upgraded) which compare favourably, on a per capita basis, with any college or private accommodation provider. We are well placed in terms of environmentally-sustainable technology including solar and water harvesting and usage. See
Sustainability
.
Please watch our latest videos of College facilities below (plus our
student room tiktok tours
), and contact us if you'd like to
arrange a tour in person/online
. 
For a future student the College offers: 
---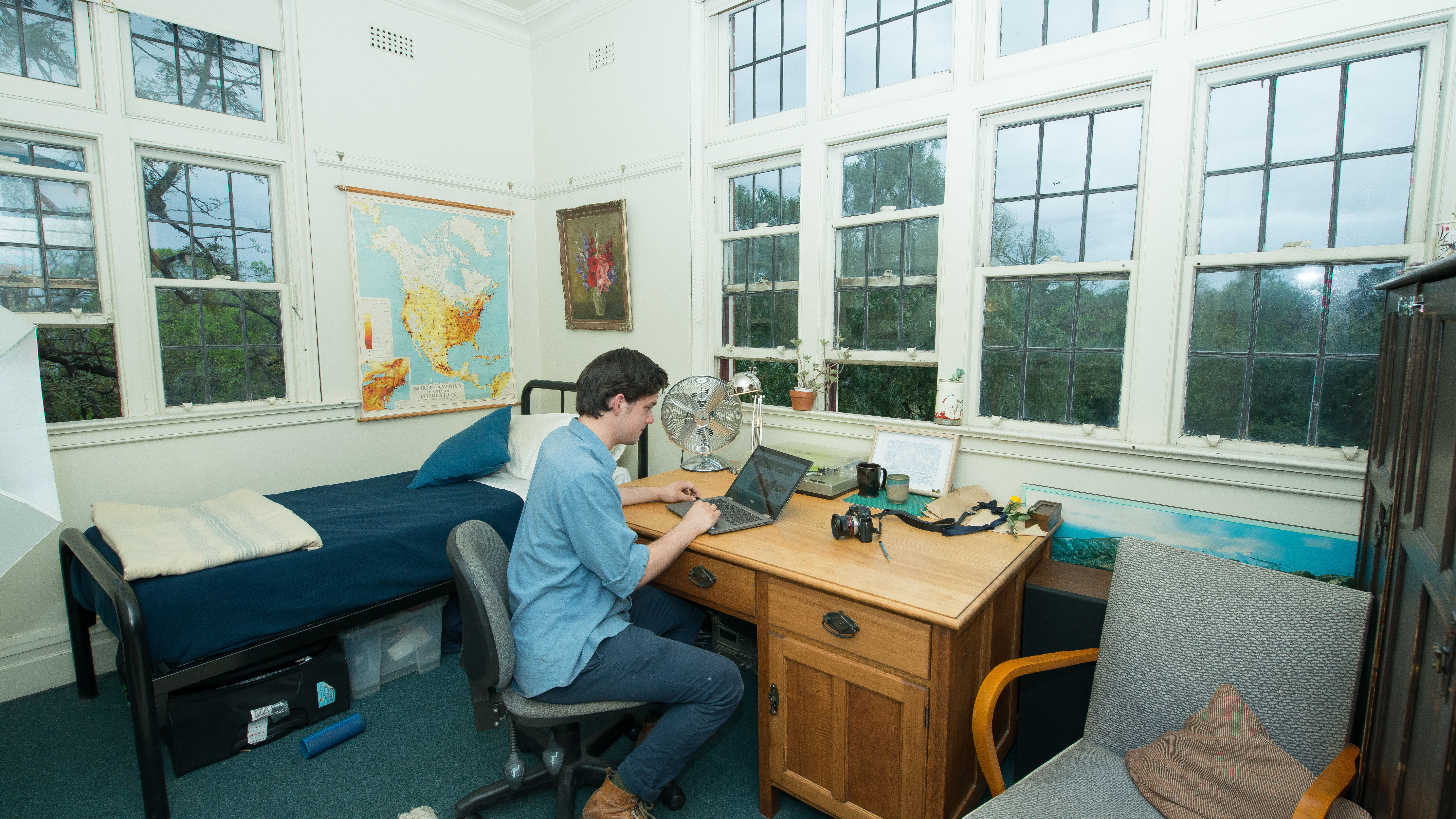 My bedroom
The College has 97 beautiful and spacious furnished student bedrooms. Each privately locked bedroom is equipped with a study desk, chair and ample cupboard space. All rooms have wireless internet and many bedrooms also have open fireplaces for personal use. Residents are encouraged to personalise their rooms - take a tour of three different student rooms in our video above.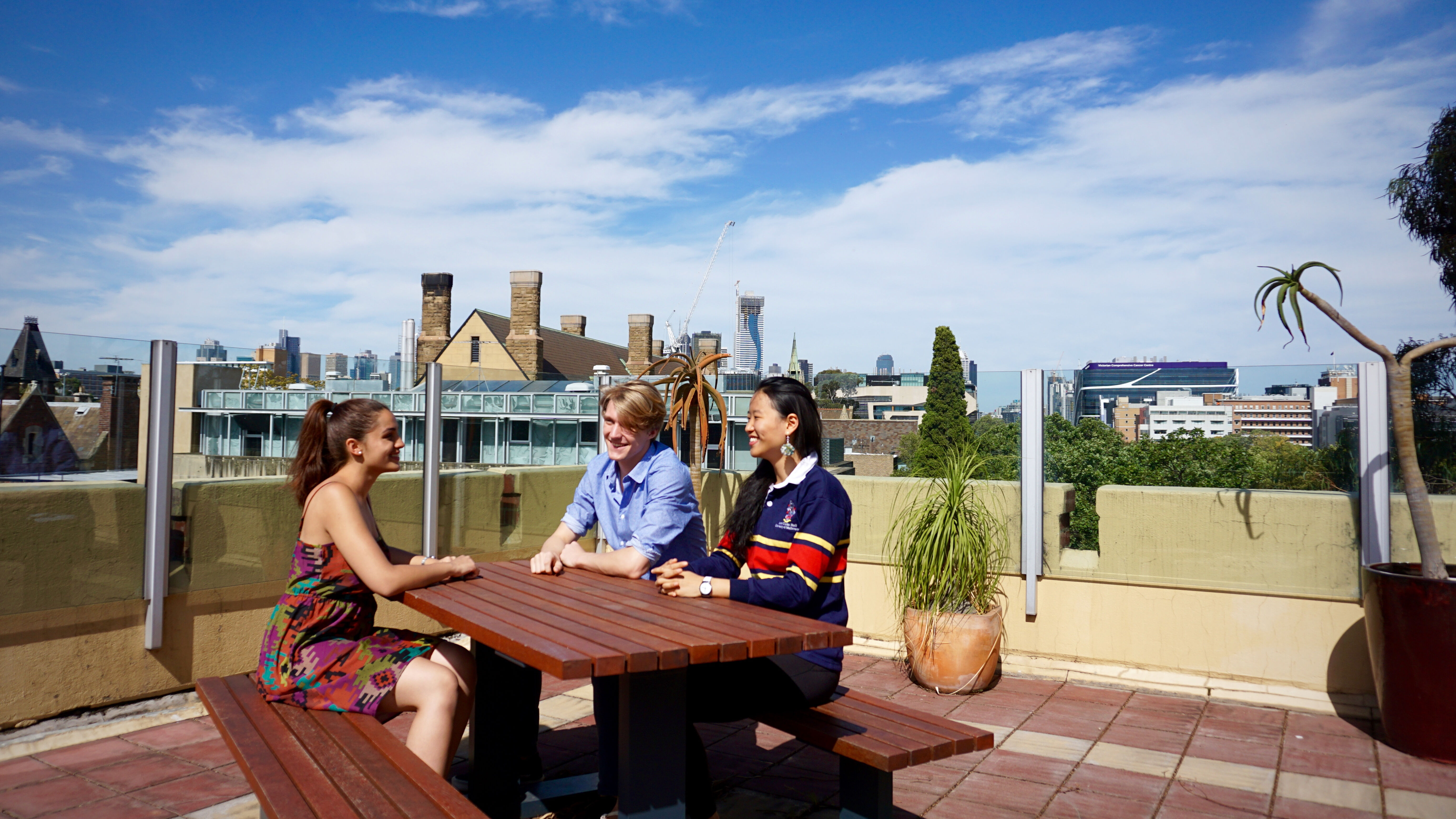 My common life
There are both larger and more intimate common rooms within which students can meet, relax, watch TV or play games including billiards, table tennis, video games and board games. Vending machines are available 24/7, and a feature of daily life is gathering for afternoon tea, and 'Clubbers' (supper) in the JCR.  The College also has a student 'boardroom', and a rooftop courtyard for student use offering incredible city views.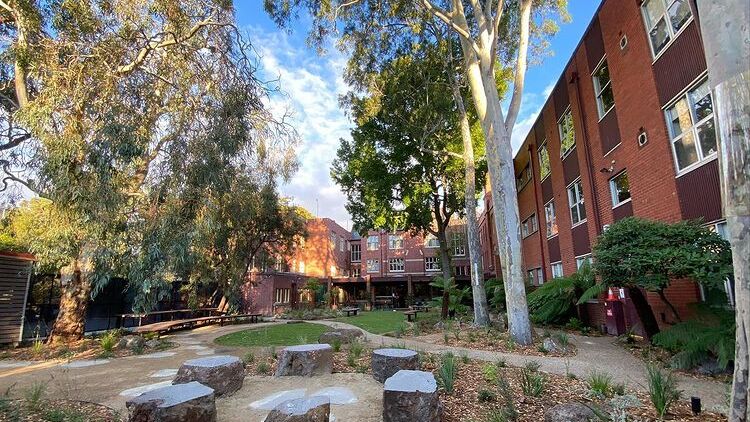 My sanctuary
Janet Clarke Hall offers a sanctuary from the busy city life just on our doorstep.  The building and gated-carpark are secured with electronic security.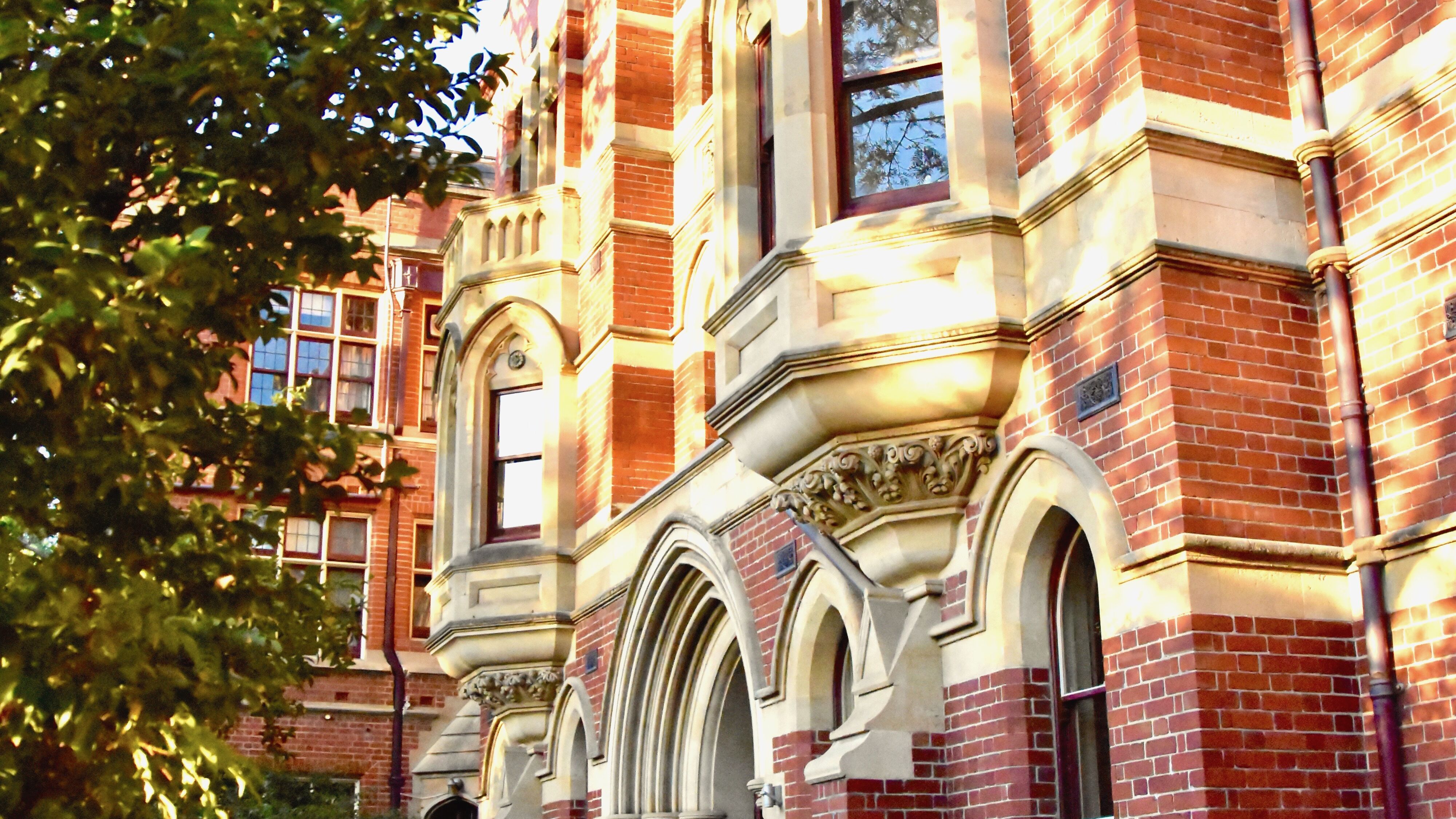 My beautiful College
Founded in 1886, Janet Clarke Hall is housed within a magnificent heritage-listed building with impressive stone archways, a light-filled formal dining hall and an attractive, cloistered courtyard garden. The architecture is amongst the most beautiful within the University.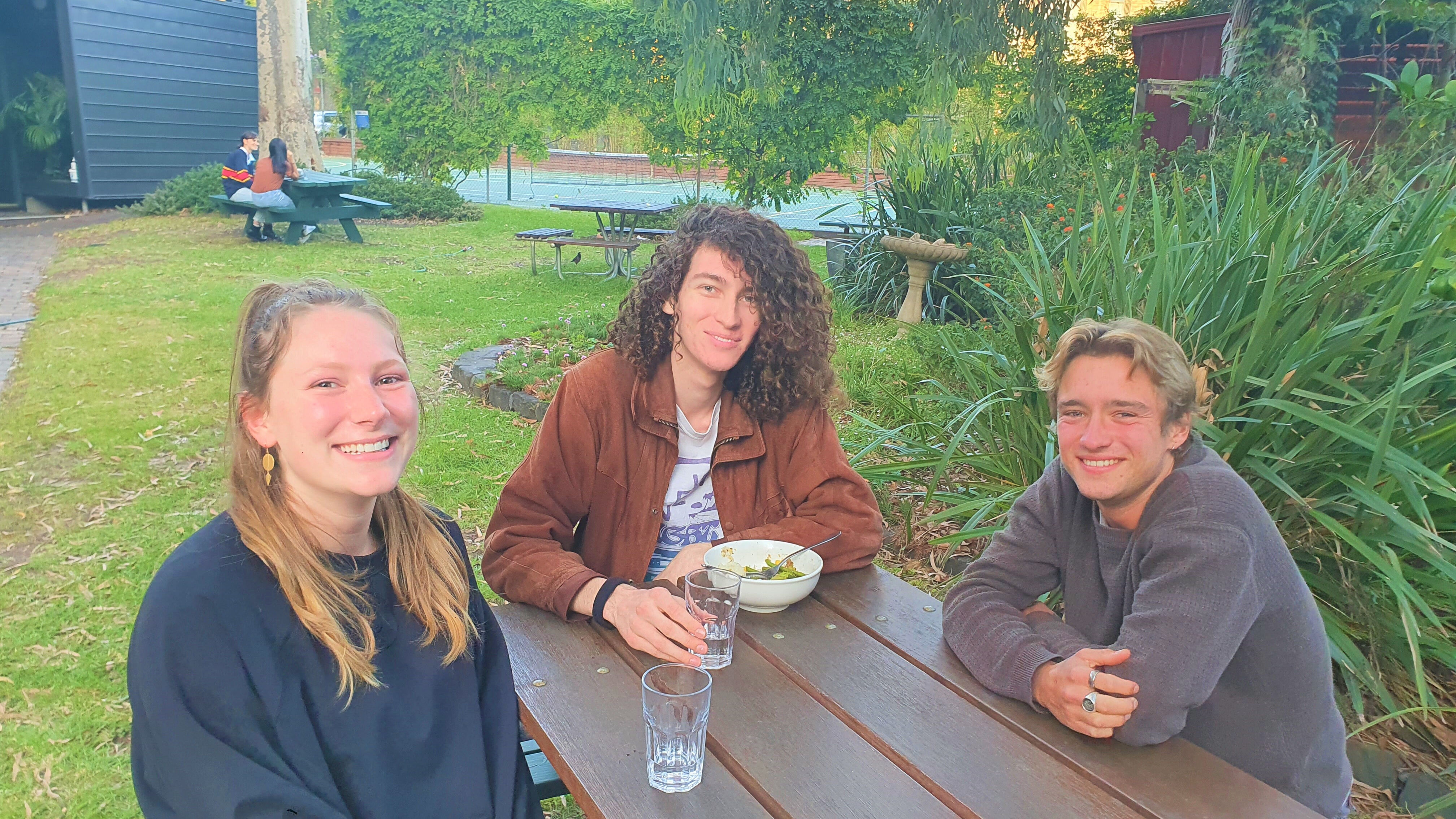 My courtyard
Janet Clarke Hall features a lovely courtyard and garden in which students can relax, play sport, study over the internet, and enjoy their meals. With thanks to a generous donor, the courtyard will be redeveloped in 2021 with a focus on sustainability and Indigenous flora.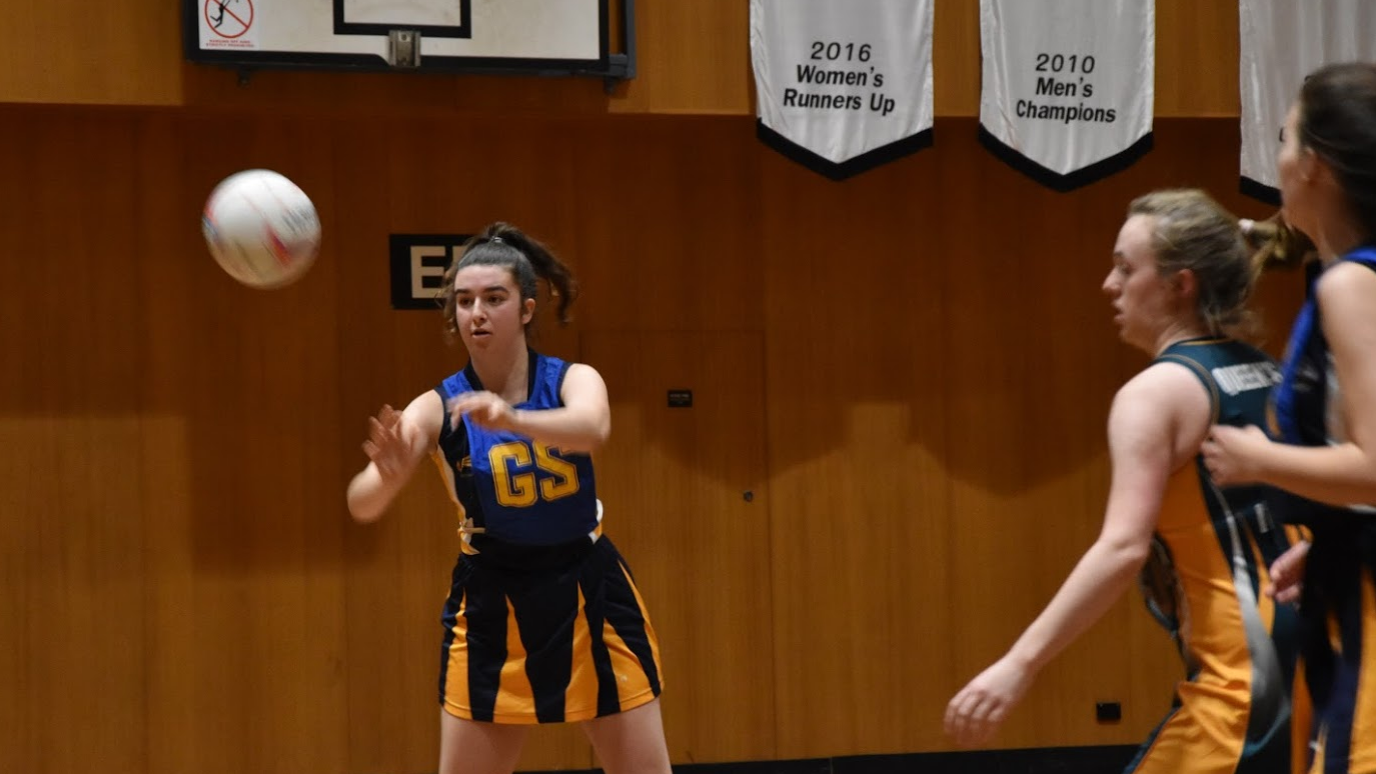 My health & fitness
Janet Clarke Hall has access to the best sports facilities on campus.  Free access for JCH students is granted to Melbourne University Sports Facilities including Gym, Pool and Fitness Classes, as well as the use of Janet Clarke Hall's own outdoor tennis court and basketball court. The College also participates competitively in a wide range of inter-collegiate sports.
My food
Students can expect three high-quality meals a day as well as afternoon tea and supper, alongside the option of ordering specially prepared lunchtime and late meals, all with vegetarian options and catering for other dietary requirements. Formal Dinners are a part of our tradition and occur every Monday in our beautiful Dining Hall.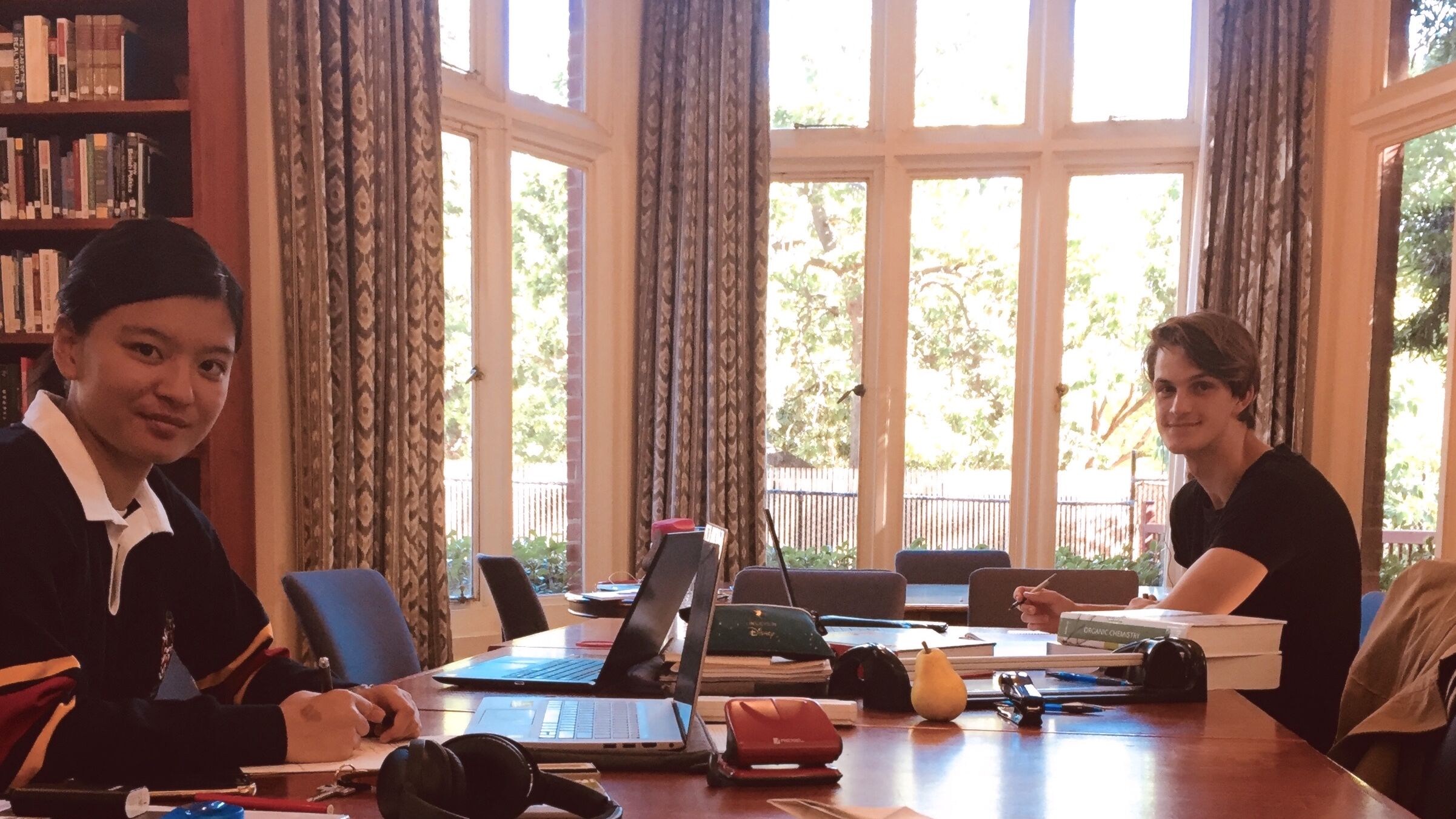 My library resources
The modern library of more than fifteen thousand volumes features textbooks relevant to all university courses as well as a growing collection of contemporary fiction novels and various magazine subscriptions. It is open 24/7 and offers free computer access, and a dedicated online catalogue for searching, ordering and borrowing books. Also available for student use is a professional A3 scanner/photocopier/printer.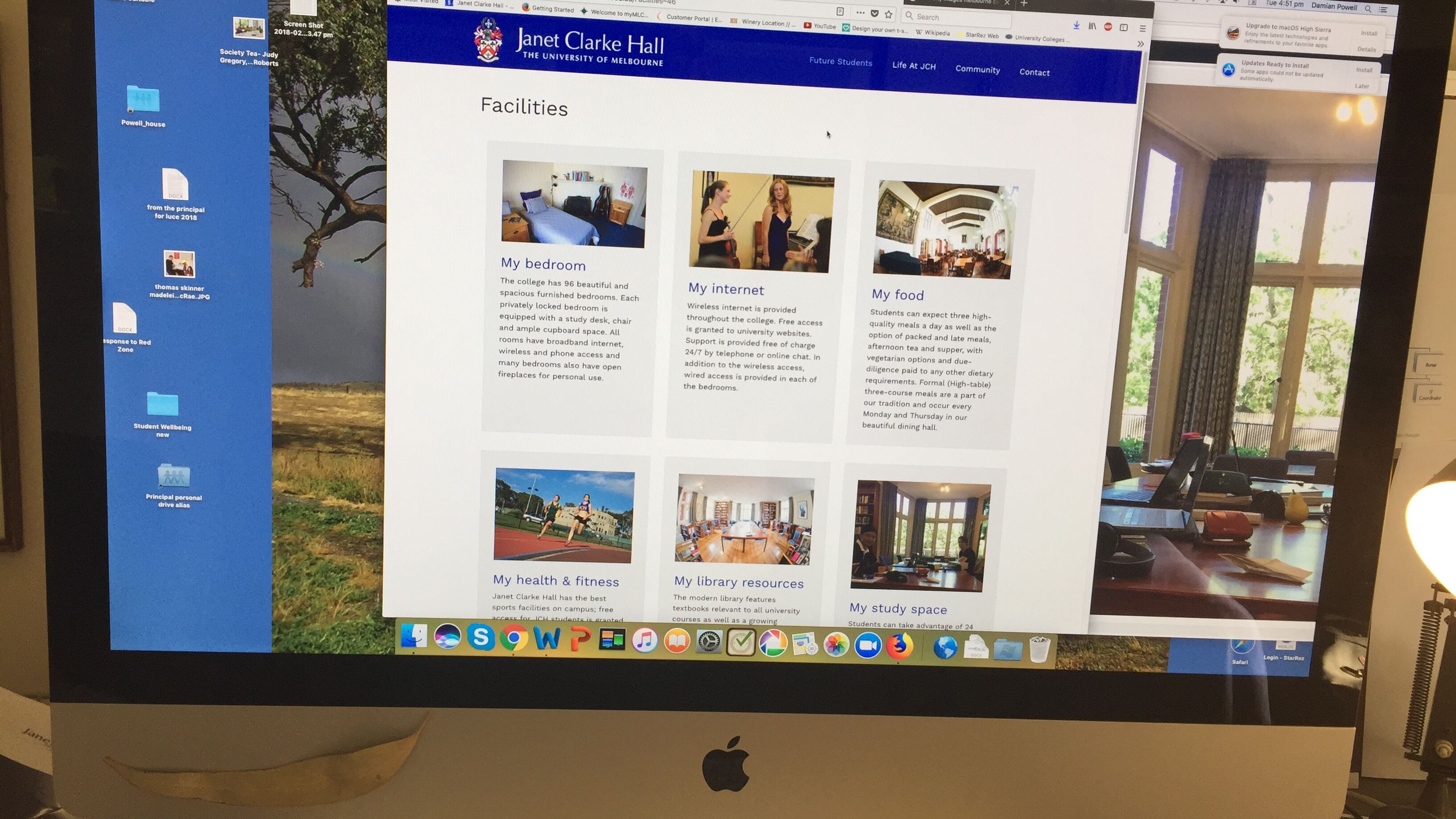 My internet
A dedicated high speed fibre-optic and wireless internet connection is provided for free throughout the college and grounds, with 24/7 Support available.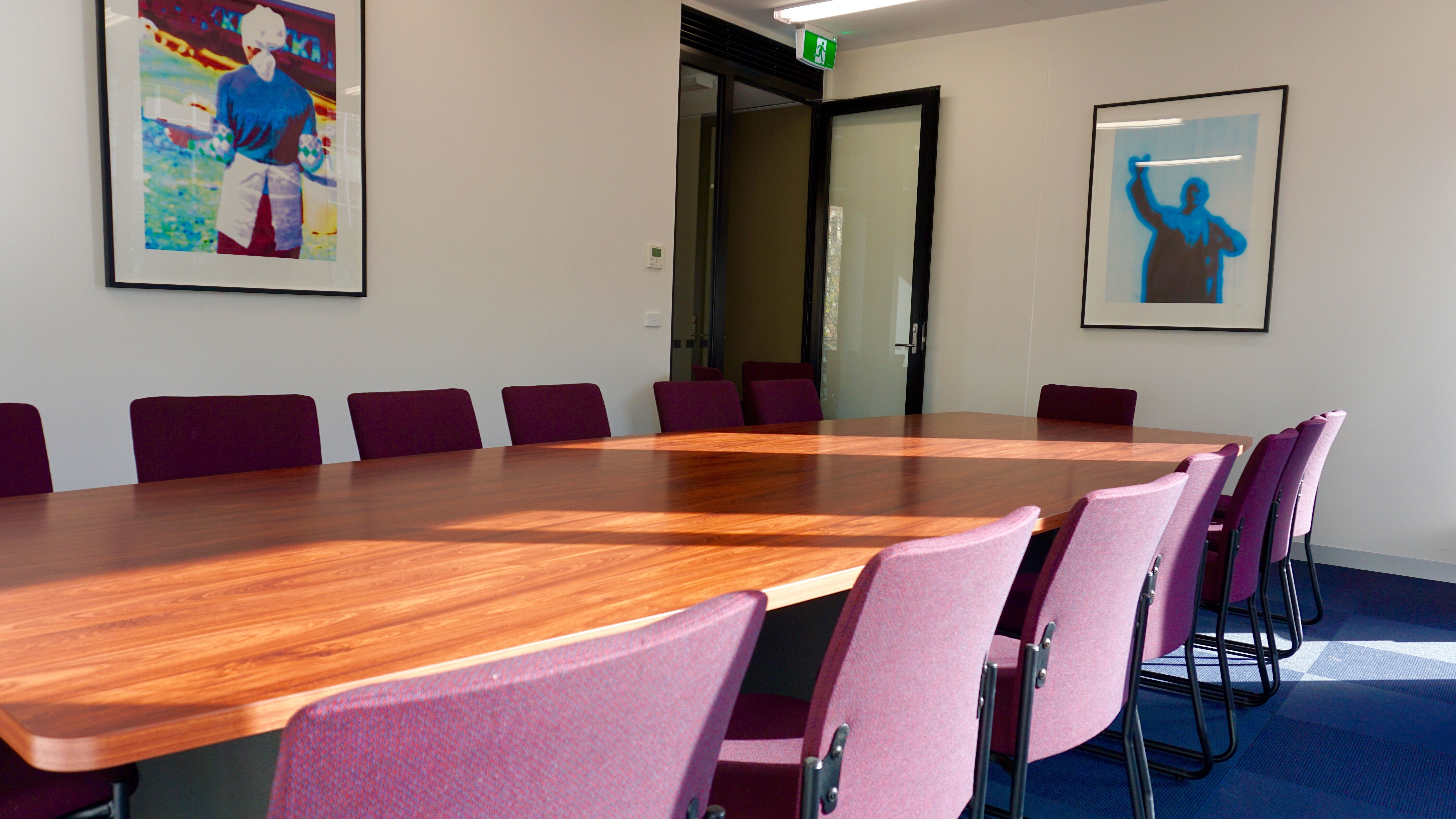 My study space
Students can take advantage of 24 hour access to a range of tutorial and study rooms in College, providing a comfortable and friendly setting to study.  If you want to access University Libraries or study spaces they are less than five minutes walk away.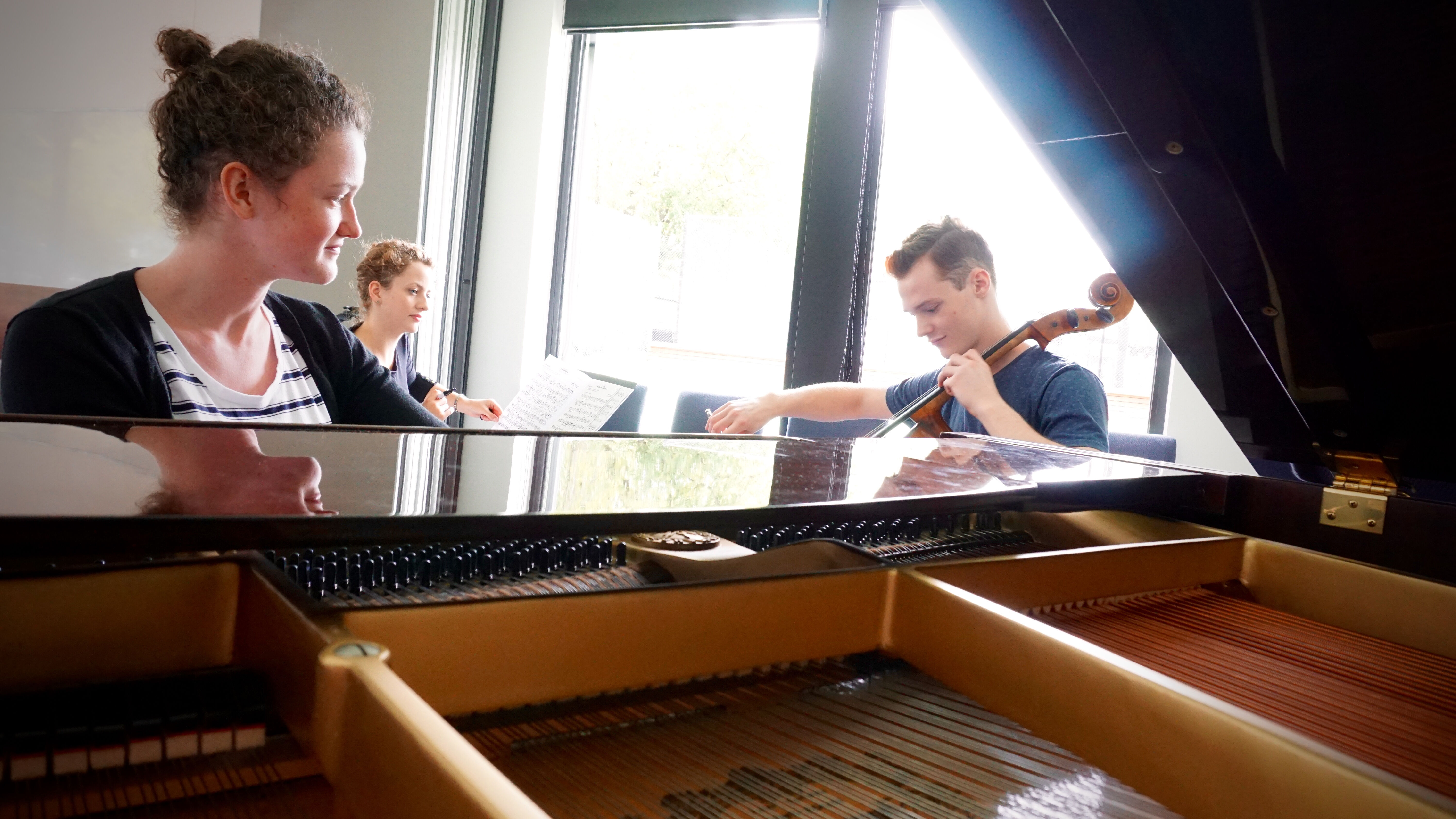 My music space
There is one dedicated practice room and one multipurpose practice room, along with other spaces for music performance. There are five pianos in the College, including two grand pianos. Students have the opportunity to rehearse and perform solo or together at weekly 'Formal Hall' dinners and other events.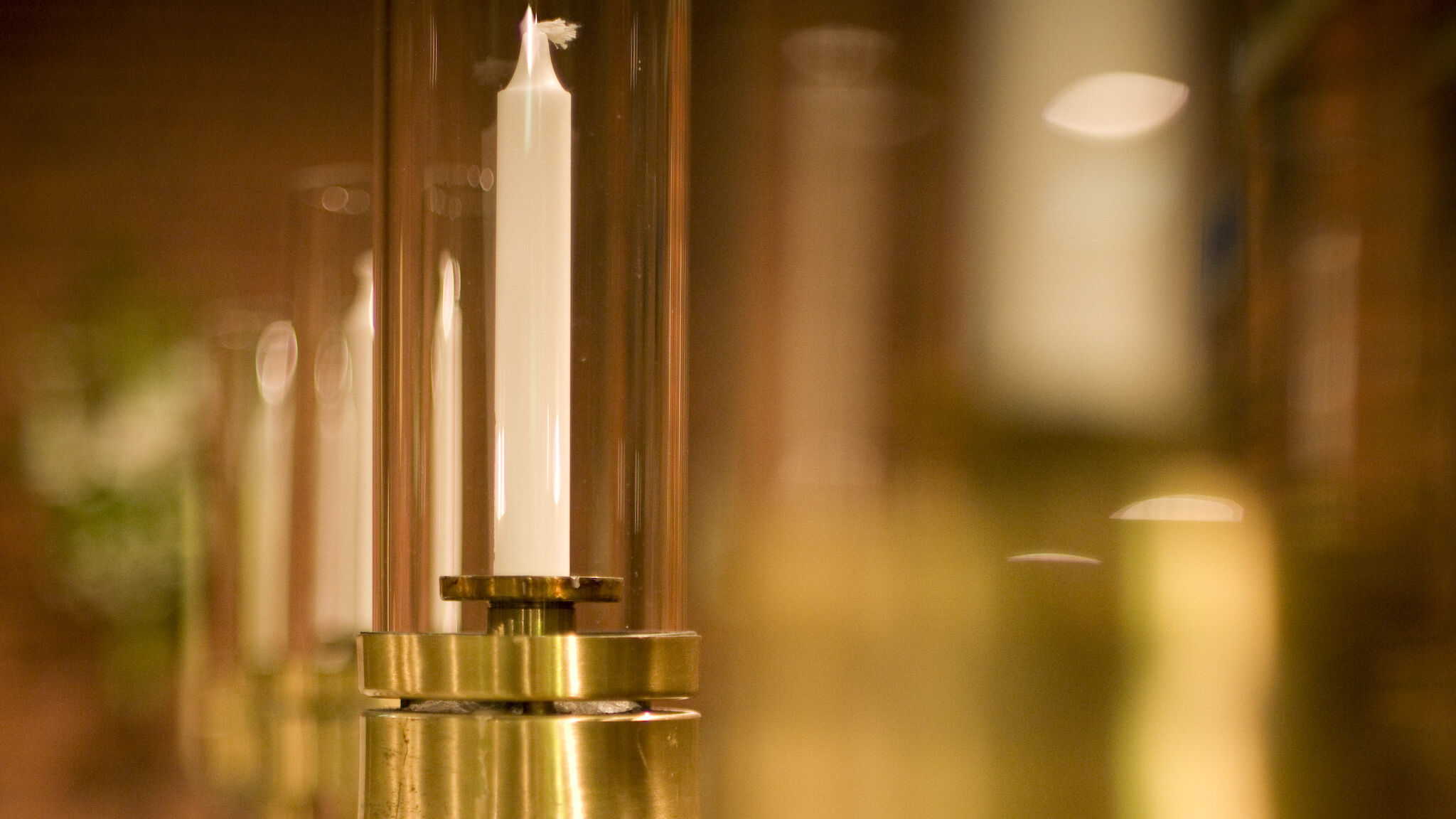 My place to reflect
Janet Clarke Hall shares a beautiful College Chapel with Trinity College, with generations of JCH students singing in the Choir. All students are welcome to attend services of worship and share in the life of the magnificent College Chapel.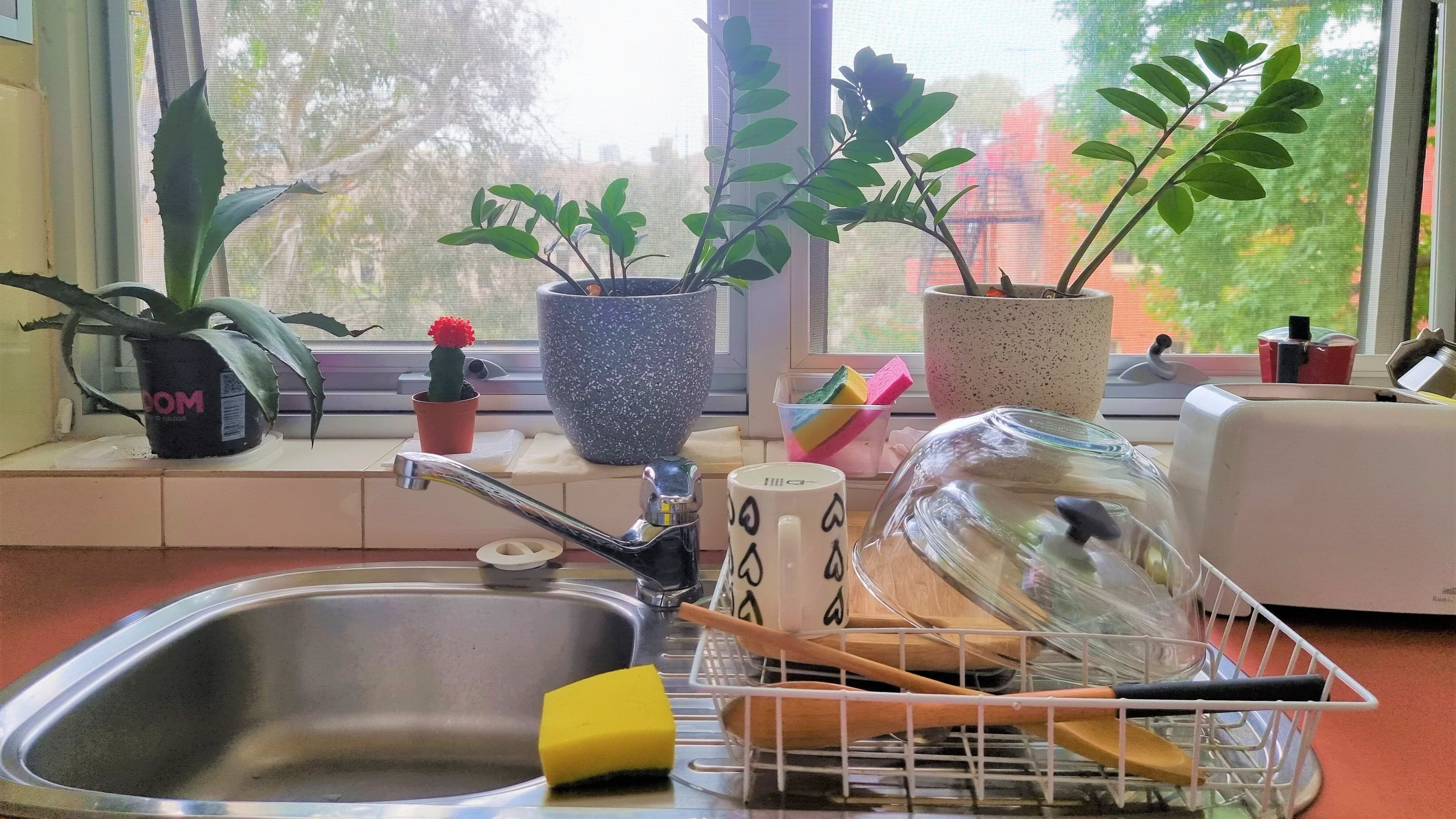 My place to cook
Students have 24/7 access to pantries with fridges, microwaves and convection ovens for storing and preparing their own food if they wish. Baking sweet treats with friends is a great way to unwind.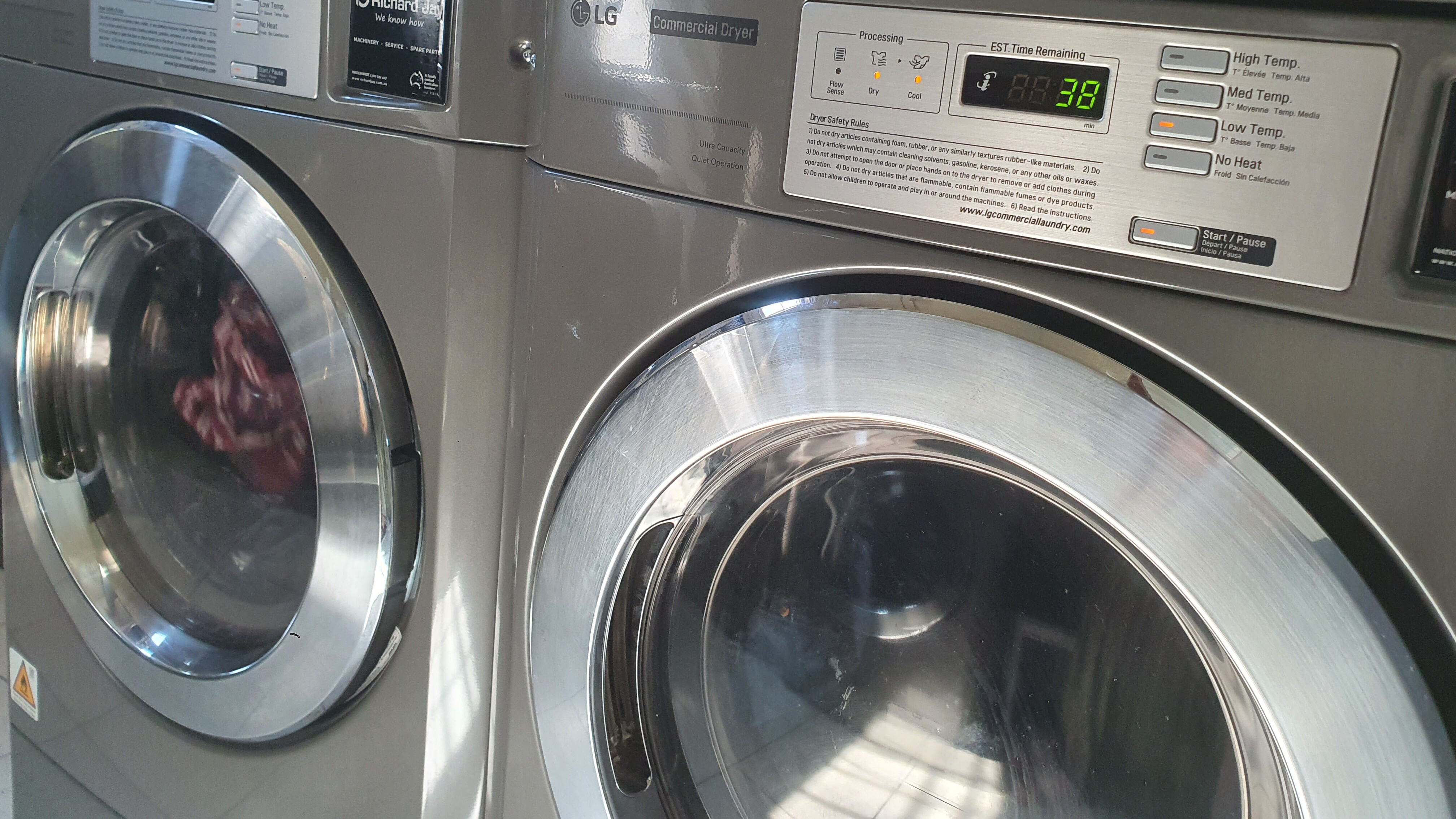 My laundry
Laundry facilities are available free of charge, with washing machines, dryers, irons and ironing boards all available for student use.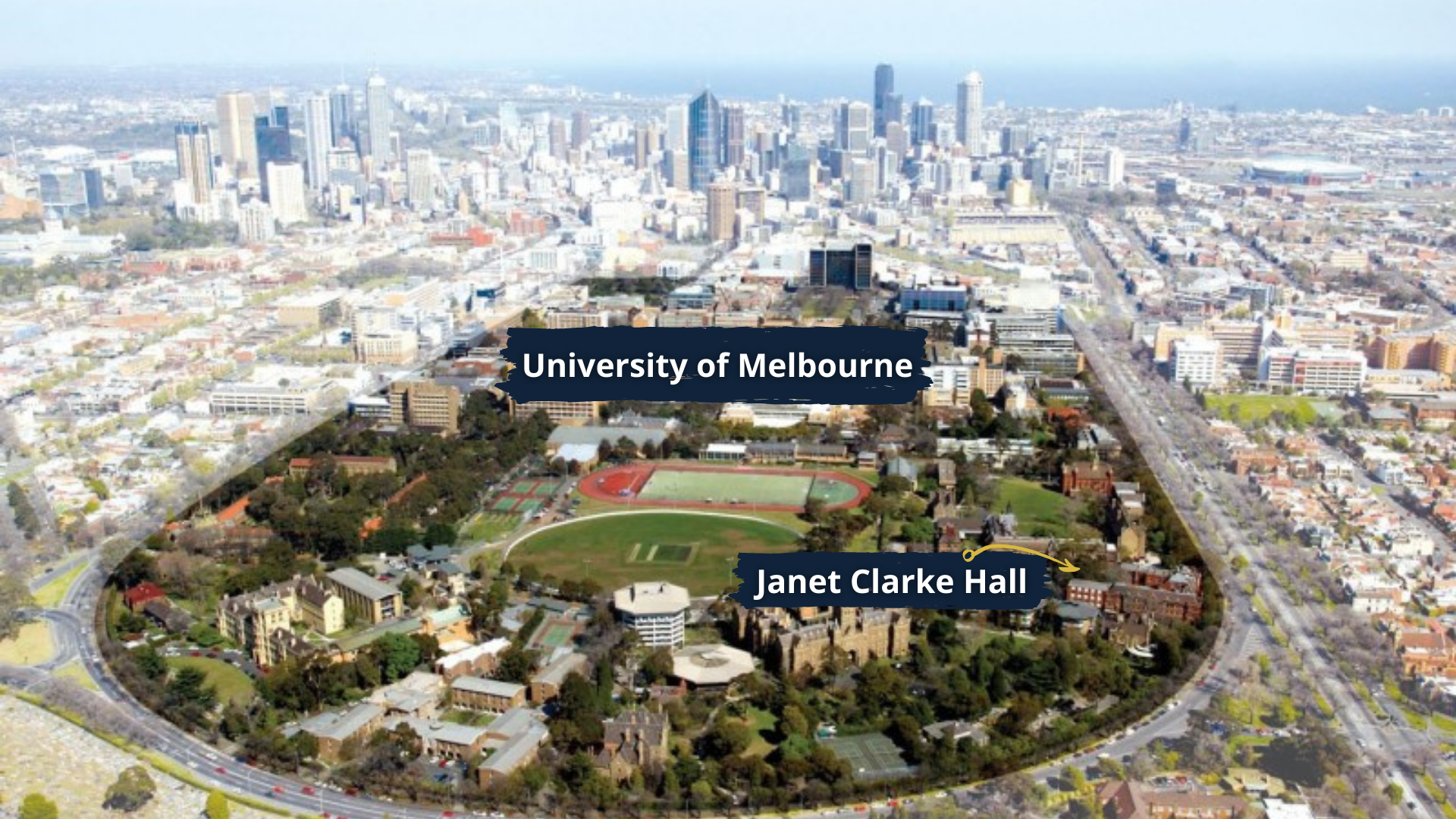 My city life
Janet Clarke Hall is located five minutes by tram from the CBD, two minutes on foot from the centre of campus, and a short walk from Lygon Street which contains hundreds of retail shops, cafes, restaurants, bookshops and cinemas.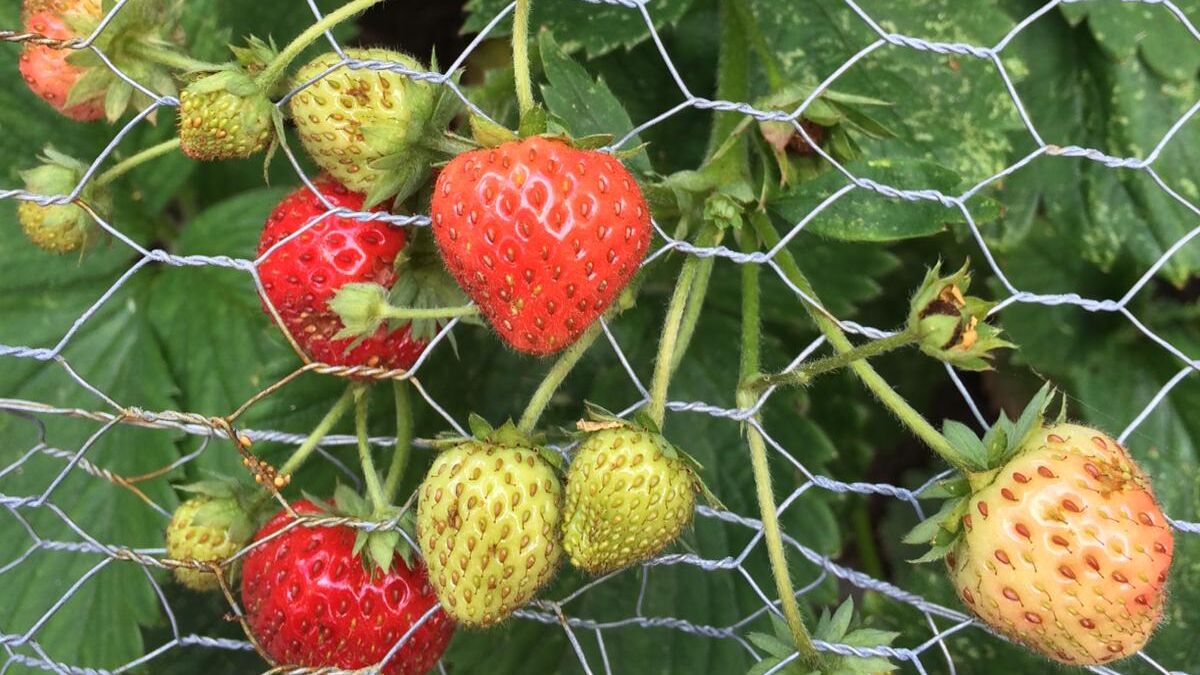 My Veggie Patch
Whether you already have a green thumb or are just starting out, tending to the veggie patch and fruit trees is a lovely way to switch off from technology and enjoy some home-grown produce.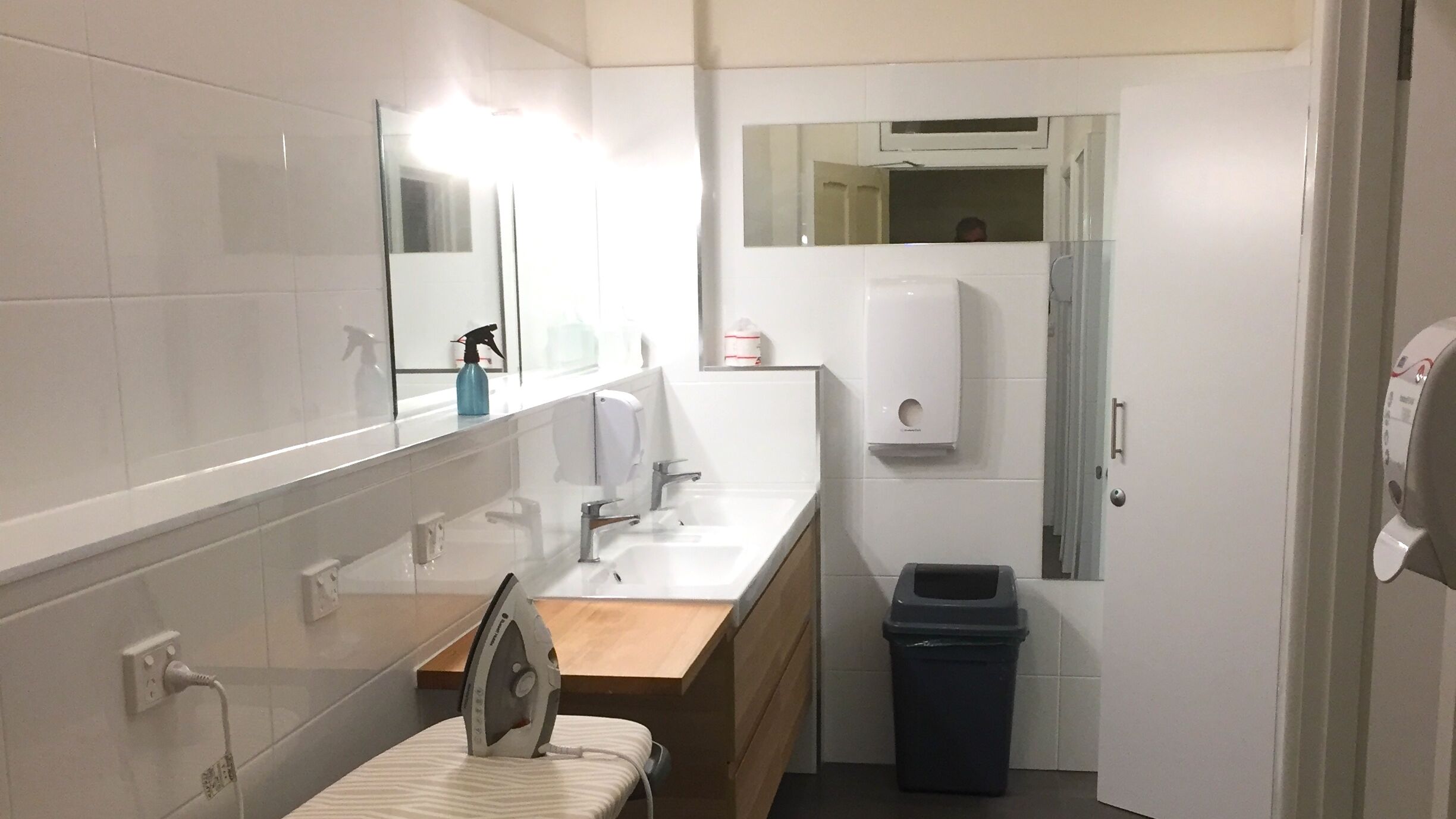 My bathroom
The College has fifteen modern bathrooms for student usage, including a women's only bathroom.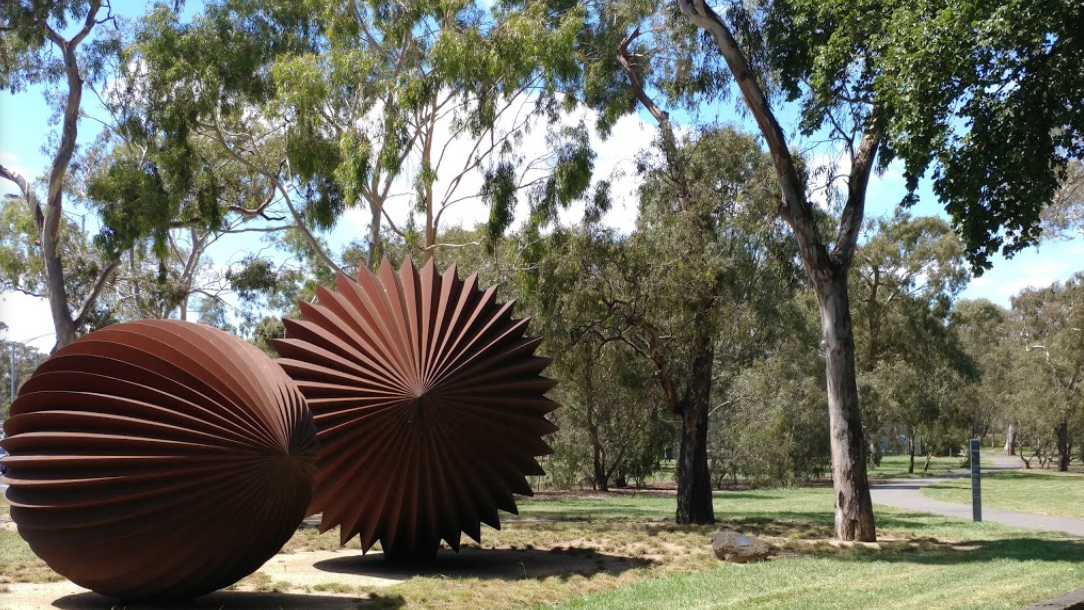 My great outdoors
Janet Clarke Hall is located three minutes' walk from Royal and Princes Parks, offering hundreds of acres of parkland, cycling and sporting facilities within 2 kilometres of the Melbourne CBD.
---