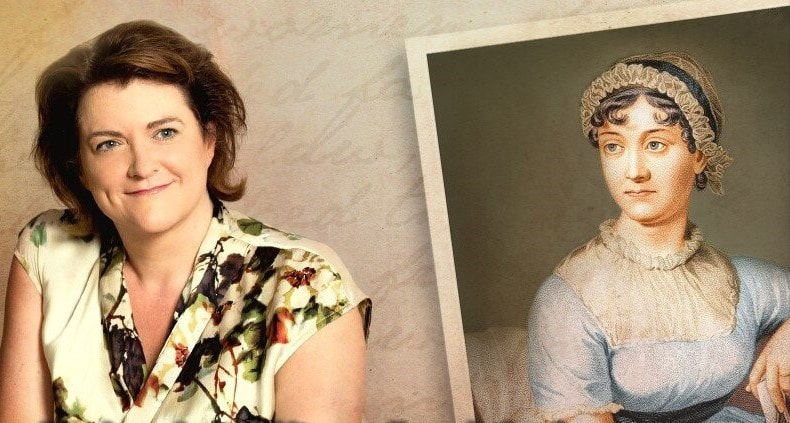 I will never forget the moment my friend, Caroline Jane Knight, dropped the bombshell.
'I am the 5th great-niece of Jane Austen,' she said as the waiter brought us our coffee.
My mouth gaped open, but I couldn't speak. Caroline had never even mentioned Jane Austen before. The only word I could muster was 'What?'. 
'I am the 5th great-niece of Jane Austen,' Caroline repeated, 'and I am the last Austen descendant to grow up in Chawton, where Jane published all of her books.'
As a Jane Austen fan, I was suddenly starstruck.  Here was someone I knew, sitting in front of me, sharing the same blood as my literary heroine. I had so many questions! Caroline very kindly endured my prying, telling me about her childhood growing up at Chawton Great House, as the descendant of Jane Austen's rich brother Edward. I was fascinated, and fortunately for all of us, Caroline has since written her memoir Jane & Me: My Austen Heritage.
But Caroline had a specific reason for sharing her story with me that day. 
'I want to start a charity in Jane's honour and do something about literacy, and I want you to help.' 
I have always been passionate about the power of education, so I simply had to support her plan to launch the Jane Austen Literacy Foundation. I have always been an avid reader. I sped through books in primary school and could often be seen walking to and from school with a book in front of my nose. Reading, and learning, has always been as important to me as breathing.
As an academic child, I was encouraged to study sciences, to 'keep my options open' for university. Engineering was considered a vocational degree and, given that the 'recession we had to have' was imminent, educating myself with a view to getting a job seemed a good idea. I owe everything I have and everything I've done to my education, and to the stable foundation that JCH gave me to achieve it. Reading and writing have led to a satisfying, stimulating and successful career. 
I cannot imagine what it must be like to live without literacy. The closest experience I have had is in countries where I don't speak the language. My first trip to Thailand was a shock. Street signs, shop fronts, packaging, television, magazines and papers, grocery stores, maps – all were beautifully rendered in the curling calligraphy characteristic of Thai, but incomprehensible to me. I was helpless because I was illiterate. I couldn't navigate otherwise simple day-to-day tasks. I was totally dependent on people around me for translation and help with meals, transport, medical treatment and navigation. How awful must it be to live with this as a day-to- day reality?
Literacy is one of UNESCO's sustainable development goals for 2030.
'Literacy is a fundamental human right and the foundation for lifelong learning.' UNESCO
So when Caroline informed me that she wanted to start a literacy charity, I jumped at the chance.
It is no coincidence that one of the greatest writers in the English language, Jane Austen, was born into a literate family that valued education, even for girls. Jane herself grew up around a school run by her father. An extensive library in the house was readily available to her, and her family encouraged her education, reading and writing. Jane was sent to school and provided with materials to practise her craft – pens, paper and books. Her family supported her education, as mine did, and she went into a career that few women of the time had, just as I did.
The Foundation has supported library and literacy programs around the world, including Ghana, remote Indigenous Australia, and now India. Our online Literacy Mentors encourage children's writing, and our latest appeal already raised enough money for two public day-care centres in Delhi to participate in Worldreader's 'Read to Kids' program.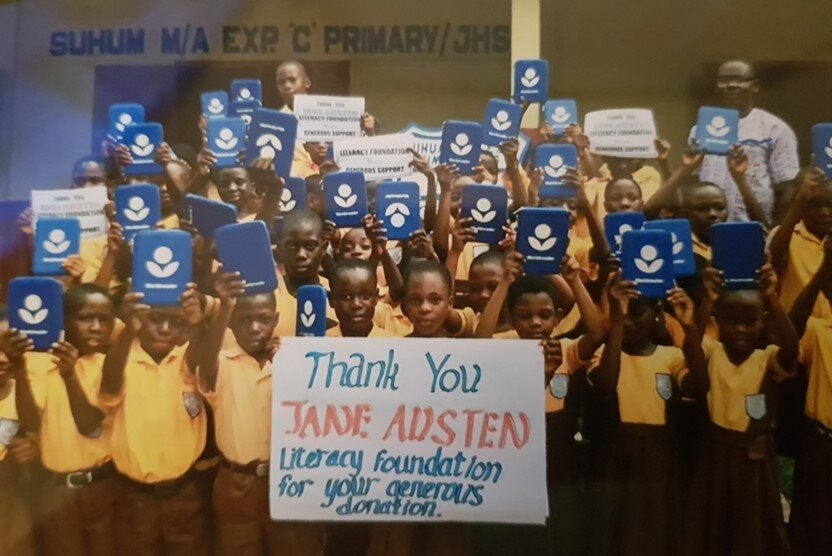 Unfortunately, UNESCO advises that on current trends, 30% of adults and 20% of young people in poor countries will still be illiterate by 2030. They warn that the numbers missing out on education are unlikely to fall much in the next decade without help.
There are 262 million young people without access to school. 
If you are moved to help change this, you can make a tax-deductible donation at www.janeaustenlf.org    
As a thank you for your contribution, every donor receives a personalised bookplate with your name in Jane Austen's handwriting. Foundation bookplates are highly collectible and change regularly with designs created exclusively for the Foundation by artists and community groups worldwide.
There are many other ways to support the Foundation. You can also sign up to receive Pride & Possibilities, the Foundation's regular online magazine. Or you can choose to become a Literacy Mentor, and help encourage children to write, or become a Fundraising Ambassador, creating grass roots events for literacy fundraising.
I am delighted that the seeds Caroline and I planted have grown a global organisation. We are delivering literacy resources to communities in need, and I am proud and pleased to be an Ambassador for the Foundation. 
Amanda Jane Mortensen (Isherwood 1989) 
Co-founder of the Jane Austen Literacy Foundation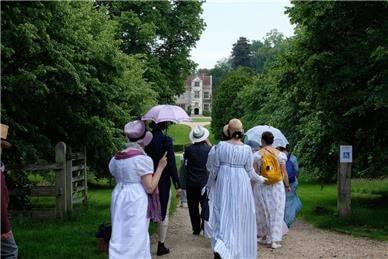 The Jane Austen Parade for Literacy starts at Jane Austen's House Museum, and finishes at Chawton House (pictured)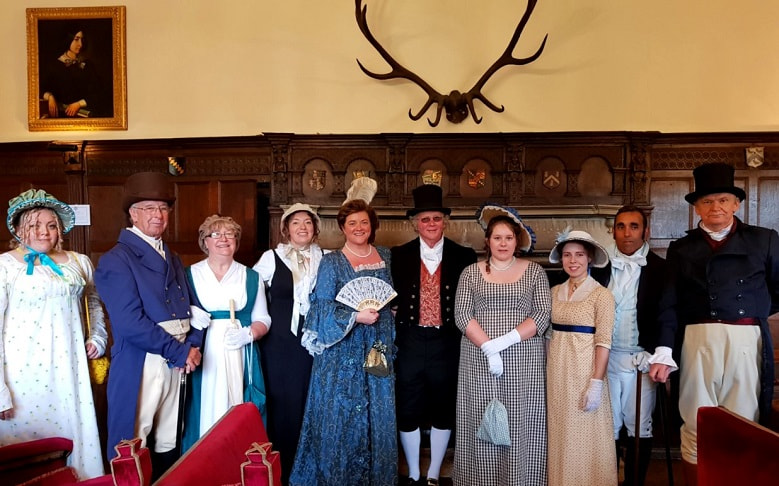 Jane Austen's Parade for Literacy finishes in the Great Hall of Chawton House, where Foundation founder Caroline Jane Knight (centre) and her father Jeremy Knight (right of Caroline) were born and raised. Co-founder Amanda Jane Mortensen is left of Caroline.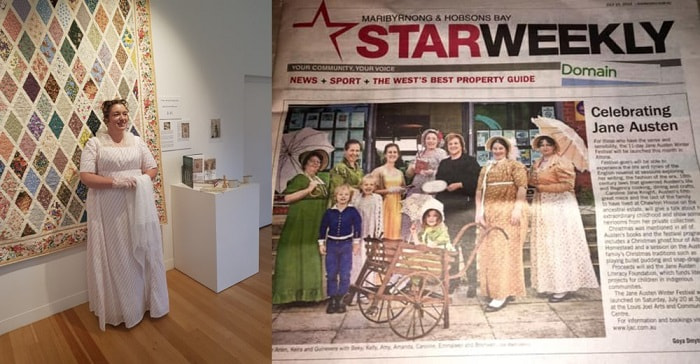 Amanda Jane Mortensen, the #AntipodeanAustenite, raising funds at the Jane Austen Festival, Altona in 2019